BRITISH ZEN JUDO FAMILY ASSOCIATION
|
home




Past Events

Chris Dalton Training Session - 12th May 2000
May 12th saw a 3 hour training session conducted by Chris Dalton 6th Dan of the Zan Shin Ju-do Society of Leeds ably assisted by Lynn Cartwright 3rd Dan of the Zan Shin Ju-do Society. The course was open to all players Blue Belt and above
Present was Andrew Millard BEM. 6th Dan president of the British Zen Judo Family Association and 22 Dan and senior grades. These came from Leeds, Maidenhead, Lincoln and Nottingham.
Sensei Doulton demonstrated the ITSUTSU-NO-KATA the kata of the five principles. The class was then taught and practiced to get a working knowledge of the GOHO-ATE KATA, The JU-NO-KATA and the GO-SHIN-JITSU KATA
The Go-shin-Jitsu kata was developed by Tomiki in 1958 he studied judo under Kano and Aikido under Ueshiba.
Muso Jikiden Eishin Ryu Iaido Course
Radcliffe Dojo 28 May 2000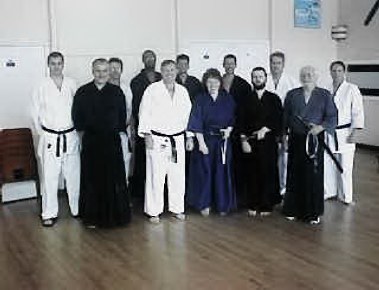 This intensive course ran from 10am to 4pm with a 30 minute lunch break. The course delegates split into two groups, Total Beginners, and the high grades group.
The Advanced group was taught by Neil Kemp 5th Dan and catered for all senior grades up to and including 3rd Dan
The Beginners group was taught by Brian Morrison 4th Dan, and practiced Basic Wazi and Omori ryu
Members of the British Zen Judo Family Association found the session to be extremely interesting, informative and complimentary to its Art Form. We came away more knowledgeable, and hungry for more. We also noted that we needed a lot more practice to become proficient.
In addition, we welcomed our guest from Virginia USA Frank 1st Kyu from the American Zen Judo Family. Thank you for joining us Frank, and i hope you had a safe journey home
Annual Spring Budo Course 6/7 May 2000
Course Photo
May 6/7th saw the annual Spring Budo course hosted by Jim Dart at the Kenshindoryu hombu dojo in Woodley, Berkshire, dedicated to the memory of Shihan D C McCarthy, Master of Zen Judo.
Building on the successful format of the Summer and Christmas courses, forty members and guests assembled for the opening Judo & Karate sessions at 10am on Saturday morning, run by Shihan Andrew Millard & Sensei Jim Dart, respectively. After morning coffee, Sensei John Cox (6th Dan), took to the karate area for an hour of kobujutsu (okinawan weapons art) using the Bo, the Japanese traditional long-staff, while Judoka enjoyed an introduction to Atemi-waza (vital point striking) and Tuite (pressure point grappling).
Following a buffet lunch, members joined together for what was to prove the highlight of the course - the Aikido session, taught by Sensei Tommy Tunner (3rd Dan Taiho Jutsu, 1st Dan Aikido) a guest from the Institute of Aikido. Sensei Tunner ably demonstrated his sixteen years of Aikido experience with a series of superbly executed dynamic techniques, which he related to the Judo and Wadoryu Karate techniques practiced earlier.
Training for the day concluded with in-depth sessions on Katame No Kata (Judo), taught by Sensei Gordon Lawson assisted by Ann Parker, and Newaza No Kata (Jujitsu) taught by Sensei Jim Dart with Tom Williams, following which Shihan Millard deservedly awarded Sensei Lawson his 4th Dan grade for his stalwart work within the club and newly-formed association. This left just enough time for a quick trip home or to the hotel for a rest and a shower before returning to the dojo for a disco and BBQ.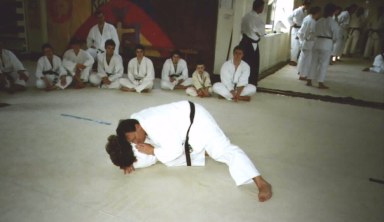 Sensei Gordon Lawson 4th Dan
Day 2 commenced with sessions of "applied" Judo & Karate techniques with Sensei Andrew M Millard and Sensei Jim Dart respectively, giving members the opportunity to put their basic techniques to use in a more realistic manner and was followed by another excellent kobujutsu bo session from Sensei John Cox and groundwork session with Sensei Gordon Lawson, during which members practiced the John Harding Kata as well as a number of "tricks" and all of the syllabus holds.
The afternoon was given over to Hanshi Allan Tattersall, 8th Dan Nihon TaiJutsu, who, after an initial demonstration of the principles of his art, had members practicing techniques which utilised these principles to good effect and at 5pm Sunday, after an exhausting weekend, the final rei was completed in formal manner to universal accord of another successful course. In this, my sincere thanks to all of the instructors and the "back-room" team that provided the meals and refreshments throughout the weekend.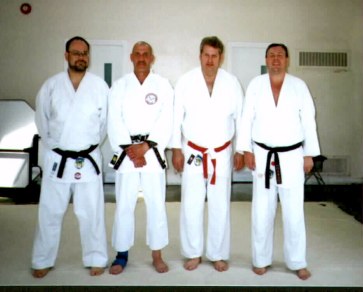 Main Instructors (L - R)
Jim Dart John Cox Andrew M Millard BEM Gordon Lawson
Dan Grades promoted in B.Z.J.F.A
Click on the picture for more photographs of courses held.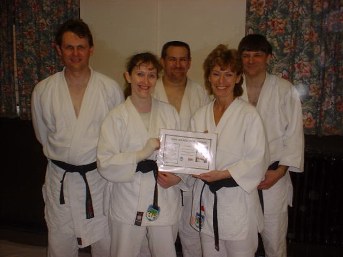 .
Kenshin Do Rye Nippon Budo Kyokai
Summer course at Woodley honbu dojo
Group Picture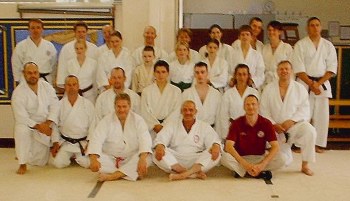 The weekend of Judo/Karate/Jujitsu/Kobudo/self defence was once again informative interesting and Fun