Radcliffe Zen Judo Clubs |
home



Latest News
2006 gradeing
Lewis Willis/Edie Cox/Emma Forster/George Barrett
Brendon Cox/William Ginn/Dean James/Piece Smith
Jack Duffy/Katie Phipps/Alex Gladwin/Craig Smith
Racheal Ginn/Martin Barrett/Kate Cox/Tony Cox .
Aaron Armstrong/James Dickenson/Nick Goodchild.
GIynis Tilley/Thomas Padgett.
Rebecca Goss/Philip Davis/Josh Astley.
Complete Zen Judo Book.
84 pages full colour in A4 in Flip over UPVC binder
Complete syllabus written for students and Instructors.
Cost only £15-00
Or Tel 01159335562
All cheques to be made to Radcliffe Zen Judo club
| | | |
| --- | --- | --- |
| | Gordon Lawson, President of BZJFA promoted! | |

kyushindo writes "Please let it be known, acknowledged and celebrated among the Zen Judo fraternity, and Budo world, that our esteemed colleague and President Mr Gordon Lawson has been promoted to 7th Dan Kyoshi (Master of the Fighting Arts) by Mr Timothy White 8th Dan of Molum Combat Academy, Indiana, USA in recognition of his knowledge, skill, teaching ability, and contribution to Budo, in particular his services to Zen-Judo and the BZJFA.

Dr Ray Pulman
Belfast Kyushindo"
RADCLIFFE BUDO COURSE 2003

Wow, another wonderful course! Another gathering of over 50 people
from different martial arts, from all parts of the country, Spain and N.
Ireland, all like-minded and raring to go. It was a joy to spend the
weekend in such good company. `````````````````````````````````````````
Saturday started with Judo on both mats with Bartolome Canellas Cardona 4th
Dan, David Ross 4th Dan, Graham Padgett 3rd Dan, Anne Parker 3rd Dan and
Amanda Lawson 1st Dan. This was followed by Karate with John Cox 6th Dan,
and Kendo with Keith Henson 3rd Dan. We all enjoyed an excellent hot lunch
then carried on with afternoon sessions in Ju Jitsu with Jim Dart 4th Dan,
Tai Chi sword and spear with Gordon McGowan, Legal Holds and Restraints with
Keith Harby 2nd Dan and another excellent and noisy Kendo session.
Saturday evening we gathered for a party with a buffet disco and Tolos magnificent "lemonade" punch.
Sunday morning there were a few bleary
eyes (nothing to do with the lemonade punch I'm sure), but everyone was soon
wide awake with Judo taught by Tolo, Tai Chi spear and sabre with Gordon McGowan followed by
Ko-Budo with John Cox and Judo groundwork with Gordon Lawson. Then after
another lovely lunch we had a Judo session with Sensei Charles Fletcher 7th
Dan on both mats followed by a short demonstration of Kappo techniques with
Gordon Lawson (not through necessity I hasten to add!)
Many congratulations to Jim Dart,
promoted to 4th Dan, Keith Harby and Ray Pulman to 2nd Dan --- well done.
Two Kendo students were also promoted and the Spanish Sensei was presented
with a picture of Sensei Charles' Japanese teachers for his Do-jo.
So thank you to Gordon for organizing
and hosting another outstanding course, and last but definitely not least a
big thank you to Moira and her "staff" for the lovely food and very welcome
cups of tea. See you all next year - 27/28 Nov. (Some people, mentioning no
names, have already booked their places and accommodation)
Report by Anne Parker 3rd Dan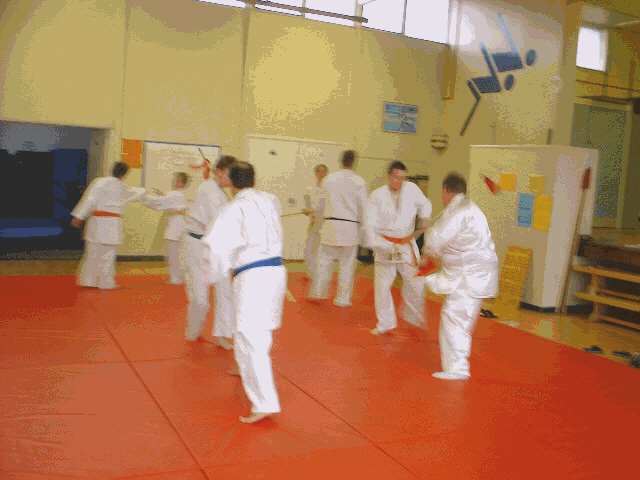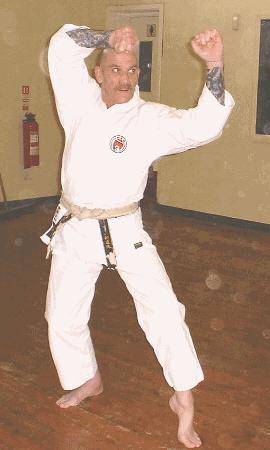 http://www.vsocial.com/video/?l=428 Check it out